Imovtoken: A new real estate and financial revolution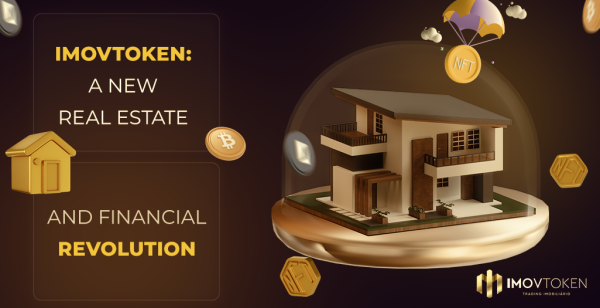 Have you ever thought of strategically positioning yourself in the real estate sector with the practicality of Blockchain, in an accessible, professional way and always ensuring the best delivery of results for investors?
A society interconnected in a practical way, bringing countless advantages and benefits for all TOKEN holders?
Yes it is possible! With IMOVTOKEN your investment is treated with the greatest responsibility and you can truly participate in a fair distribution of results.
IMOVTOKEN brings a unique and exclusive modality to the WEB 3.0 market with high leverage capacity. Today it is already possible to invest in Real Estate Trading, one of the most profitable and consistent forms of financial market for financial leverage. We know that the financial market is a territory of constant evolution and learning. IMOVTOKEN, in partnership with Token Business, is able to deliver an effective and safe system for its investors.
Today you can already acquire one of our shares on our platform. With a minimum initial investment of only $100 you will be able to position yourself in what is already one of the most profitable markets in the world, and of course, you can participate in our community IMOVTOKEN, full of news and innovative strategies, interconnected with WEB 2.0 and WEB 3.0.
To guarantee economic stability, 30% of the net profit of each IMOVTOKEN operation returns to our system, as well as 13% of the net profit of the quota operations, guaranteeing constancy in the purchase and burning, making our Token deflationary, generating a strong and stabilized liquidity for a real and organic growth.
This multiplication and creation of Investment Banks must always follow the highest technical, analytical and professional standards, aiming at the best result in the investment applications. We have Pactuan as an intermediary that is already recognized and specialized in this sector and that also brings to the chart 5% of its revenue, which counts on traditional investors, external to the crypto. Everything was thought out to bring the healthiest and safest environment. It is not enough to invest in real estate or in financial applications, you need to have the freedom within the best financial methodology.
Only with IMOVTOKEN you can take advantage of this democratic system that guarantees total transparency with the decentralized system allocated to the investment. There are countless other benefits incorporated to the IMOVTOKEN system with gradual implementations interconnected throughout the platform, appearing as a constant UPGRADE in strategic and systemic improvements. Our biggest motivation with IMOVTOKEN is to guarantee opportunity for everyone to invest in a safe and practical way without difficulties. We have the maximum know hall in the field of real estate investments providing unparalleled opportunities for all who intend to start investing or expanding their range of investments.
IMOVTOKEN is innovation! We are ahead in this market with novelties that do not stop there. We will have a GAME of services grouped to investors and participants of IMOVTOKEN:
→ Sale of properties in IMOVTOKEN
→ Launch of the first building for real estate trade by IMOVTOKEN linked to NFTs
→ Launch of a logistics center for commercial real estate
→ Acquisition of building land in São Paulo
In addition to many news that await you, for this which has already been consolidated as one of the best Blockchain investments in the real estate sector. Buy now your quota and participate in IMOVTOKEN
Media Contact
Company Name: Imovtoken
Email: Send Email
Country: Brazil
Website: https://imovtoken.com/